Eleanor demonstrated leadership in the Progressive and Suffrage Movements, but in many ways her leadership, causes and public persona were a direct result of her mentor's efforts to broaden her worldview. Eleanor Roosevelt's mentor was the headmistress of Allenswood, Marie Souvestre. Today, Eleanor is considered one of the most respected women of the 20th century, but Robin Gerber, author of Leadership the Eleanor Roosevelt Way: Timeless Strategies from the First Lady of Courage suggests that it was not an easy path.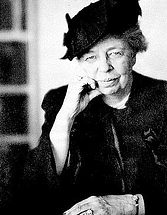 With an alcoholic father, a vain and distant mother (both of whom died before she was ten) and a husband who turned out to be unfaithful, Eleanor Roosevelt needed guidance and mentoring. She emerged with leadership skills. To study her life is to understand how leadership skills are learned.
Mademoiselle Souvestre was the headmistress of the preparatory school to which young Eleanor was sent. Fortunately, Souvestre's goal for her students was to expand their minds and attain intellectual independence. Allenswood, a girls' boarding school in England, used French in many classes. Eleanor turned out to be better prepared than most for Allenswood, due to extensive French tutoring prior to departure. It was Allenswood that Eleanor began to find herself.
Although six feet tall with prominent front teeth, it was during this period that Eleanor lost her shyness and acquired the self-confidence which would stand her so well in later life. Souvestre mentored Eleanor and they made field trips to Venice and Paris, with Eleanor making the arrangements. (Talent managers reading this will recognize this as giving the high potentials new and challenging tasks.) Mentoring introduced the teenager to the lifestyle of an independent woman. Eleanor always credited Souvestre with forming both her character and her intellectual outlook.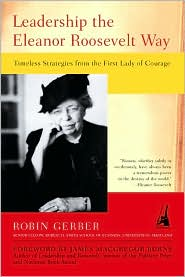 In Leadership the Eleanor Roosevelt Way, Gerber discusses both the importance of finding a mentor and demonstrating leadership by addressing challenges head on. In 1918, Franklin Delano Roosevelt contracted the flu and pneumonia on a return trip from Europe. He was whisked off the ship and sent to bed. As his wife unpacked his belongings, she discovered a pile of letters and learned of his affair with her secretary, Lucy Mercer.
Gerber argues that leadership is what sets one apart in time of crisis. Eleanor Roosevelt told her husband if their marriage was to survive he could no longer see Mercer, and then she chose to focus on her own personal growth. Later she wrote, "How do you recover from disaster? You do it by meeting it and going on. From each you learn something, from each you acquire additional strength and confidence in yourself to meet the next one when it comes."
Eleanor Roosevelt was one of the first "bloggers", with a syndicated newspaper column, My Day which was published from 1935 to 1962. During those years, Eleanor wrote the column consistently six days a week, the only interruption being when her husband died, and even then she missed only four days. The column allowed Eleanor to reach millions of Americans with her views on social and political issues, current and historical events, and her private and public life. Dealing with subjects far out of the range of the conventional first lady's concerns, My Day is an outstanding example of the breadth of issues on which Eleanor Roosevelt demonstrated leadership.