Learning
Learning 2011 Conference: Bill Clinton's Keynote
Back to Work. Bill Clinton's keynote at the Learning 2011 included ideas of interest to trainers, coaches, and talent development professionals.
---
President Bill Clinton was the keynote speaker at the Learning 2011 Conference in November. He spoke on several topics of interest to trainers, educators and people in talent development. Clinton focused on our need, as a society, 1) to increase the discussion of what works, 2) a need to reform systems to shift to continuous innovation and improvement and 3) to recognize that people learn, hear and process information in different ways.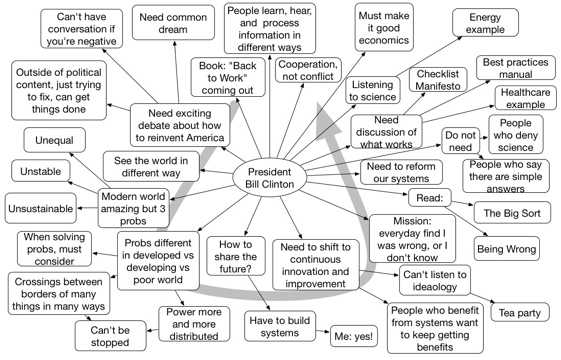 The ideas from the keynote pres-entation are captured in this beautiful mindmap, which is posted (with many others), on Cark Quinn's blog: Learnlets: Learning about Learning.
From President Clinton's perspective, the modern world is amazing but globally there are three significant problems. The current system is unequal, unstable and unsustainable. The world has become porous, with people, ideas and capital moving across borders in many ways. The net effect is that power has become more distributed and solutions will need to come from more systemic thinking.
While President Clinton did not discuss mentoring directly, his words about shifting to continuous improvement and constant improvement to increase innovation resonate with anyone with leadership management and development responsibility.
President Clinton also talked about the current debate about how to reinvent America. We believe that American Corporations are going to be increasingly focused on creating new jobs for American workers (in-sourcing), which will require an increased training, mentoring and skill transfers. In-sourcing and investing in American workers may be good public relations, but every part of the solution to increase American jobs will need to make good economic sense. It

is impossible to have a conversation if you are only focused on the negative aspect of the problem. Ultimately, we need to see the world, our jobs and the opportunities available in a different way.
His presentation is available in ten videos on You-Tube, the first of which is posted here:
Mentor Resources is the premier provider of tools for formal mentoring programs, using WisdomShare™ an artificial-intelligence matching system. Our goal with each client is to help them develop mentoring programs which combining the best match with clear guidance and measurable goals which are strategically accretive to the organizations' long-term goals.
Our clients include Fortune 1000 companies, professional associations, government departments and non-profit organizations and university alumni associations.