Wisdom Share
One Smart Platform for all your Mentoring Programs
With its Chemistry Quotient™ algorithm, targeted coaching and guided workflows, Wisdom Share delivers profitable results with every partnership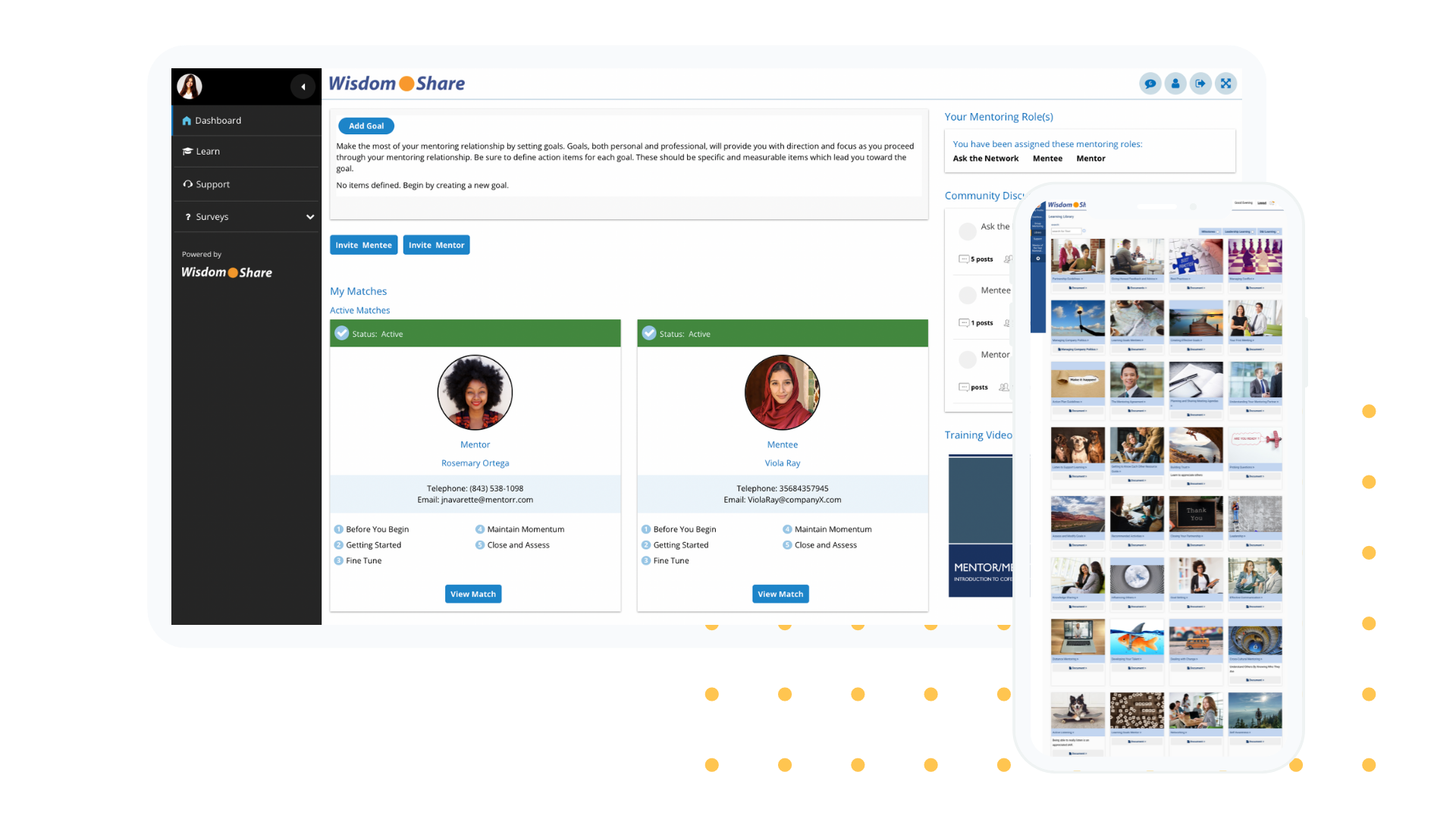 Wisdom Share

Mentoring Software Supports A

ll Your Mentoring Initiatives in one Platform.

​

Enroll
Select the database fields you'll need to fit your mentoring program goals.​
​Build a mentoring pool of potential mentors and what they can offer based on their attributes.​
​Mentees sign up to be paired with the mentor that best matches their goals.
Predictive

Match
Wisdom Share's Matching algorithm is so advanced that it can predict the most successful matches for every user. ​
​Matches based on science ensure the best results.
Train
Only 28% of mentors know how to create great results in a mentoring partnership without training. ​
​Build a mentoring culture that produces consistent results among partners.​
​Get mentors and mentees on the same page with training.

Guide
Create a successful mentoring experience via Milestones.​
​Targeted reminders nudge participants into the next step.​
​The milestone calendar guides mentors and mentees through mentoring best practices.​
​Create a consistent mentoring culture where everyone follows the same rules of engagement.
Scale
Add programs and participant pools to grow your mentoring program at scale.​
​With 14 different match types, select the one that works best fits the growth of your targeted population.​
​Apply learning experiences to all participants ready to expand and grow.​
​Sponsor diverse initiatives across all sectors all with separate goals and match criteria.
Measurable Impact
​
Show program success and impact with program data.​
​Get participant feedback via personalized surveys.​
​Share partnership success.​
​Access data from your dashboard.
POWERFUL FEATURES
WISDOM SHARE® PACKS A PUNCH
Our matching algorithm is better because of what we measure!
WHY WISDOM SHARE FOR EDUCATIONAL ORGANIZATIONS?
Wisdom Share is in the business of People.
Is Job Placement a sign of a University's success? And how can Educational Organizations give their students an edge in the ever changing job market? And how can Wisdom Share help?
With Career and Peer Mentoring, Students are paried with other students or professionals in their field of interest. This creates and engaging learning environment, allows each individual to get academic/career advice and builds career networking skills.
With Alumni Mentoring, you're giving your students a network of professionals who can share advice and give knowledge about the world after graduation. As well as helping the 'Mentee', this also serves the 'Mentor' in creating a stronger bond as an alumni to the University.
Using the Expert Matching Algorithm by Wisdom Share, to correctly team up members of your organization will create an environment that attracts, engages and retains it's members, and therefore increasing revenue.
"Cornell University's School of Industrial and Labor Relations found that mentoring programs boosted minority representation at the management level by 9% to 24% (compared to -2% to 18% with other diversity initiatives). The same study found that mentoring programs also dramatically improved promotion and retention rates for minorities and women—15% to 38% as compared to non-mentored employees.

"Employees are happy, engaged, and productive when their individual needs and the needs of the organization are in sync. The extrinsic rewards of salary and benefits might be enough to get top talent in the door, but it will not be enough to retain employees or to bring out their best efforts. Employees reach their full potential when their job also brings intrinsic rewards—the feeling of doing meaningful work that is connected to their own personal and professional development.'

- FORBES MAGAZINE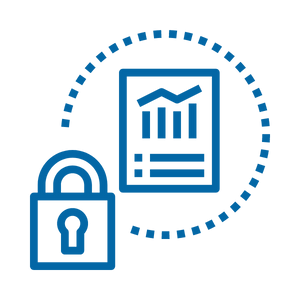 Proprietary Matching Algorithm
Based on 18 compatibility factors and 30 years of expert matching experience, it provides 99% satisfaction ratings.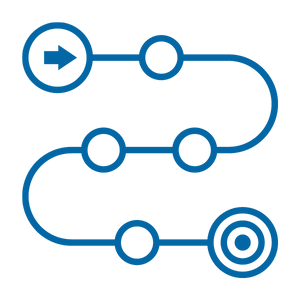 Guided Participant Roadmap
Guide participants through the mentoring process with milestone calendar tied to rich content and email alerts.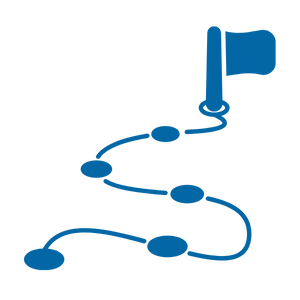 Online Action Plans & Milestone Tracking
Create and monitor customized goals and follow along with personalized milestones throughout relationship.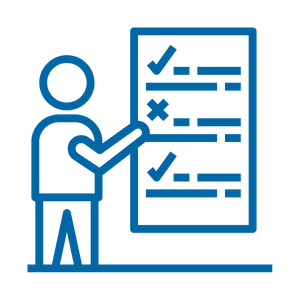 Constant Training and Guidance
Best practice webinars, an online library of guides and resources, drip emails with the right instruction and support at the right time.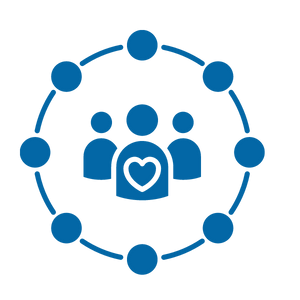 Communication and Social Tools
Partners can message each other and share files, colleagues can participate in an open discussion board, and badges and awards gamify the process.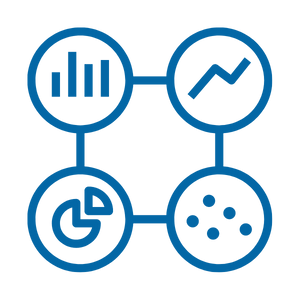 Measure Program Results
Dashboards, summary reports, in-depth analyses, surveys, and more - all the tools needed to easily administer a successful mentoring program.
OPTIMIZE YOUR NUMBERS
Get the most out of your metrics
Customization and Program Design
To ensure your program goals are met, we include consulting and program design with each package. We work with you to personalize Wisdom Share to meet your needs. Each feature is contained in a module. From functional use to branding to placement on screens along with colors, each module can be customized to meet your needs.
Integration
Wisdom Share integrates with your Outlook and Google Calendars, your enterprise software (Workday), Human Resources Information System and your Learning Management System.
Predicting
Compatibility
To ensure your program goals are met, we include consulting and program design with each package. We work with you to personalize Wisdom Share to meet your needs. Each feature is contained in a module. From functional use to branding to placement on screens along with colors, each module can be customized to meet your needs.
Strength's Based
Matching
Wisdom Share's Chemistry Quotient predicts partner compatibility to ensure the best possible match.
Matching Pairs
Wisdom Share matches 14 different ways to provide a variety of options for participants and administrators alike.
Wisdom Share
User Dashboards
Managing a mentoring partnership is easy using the Wisdom Share dashboard.
Set goals, message your mentoring partner, schedule a meeting or chat in a discussion.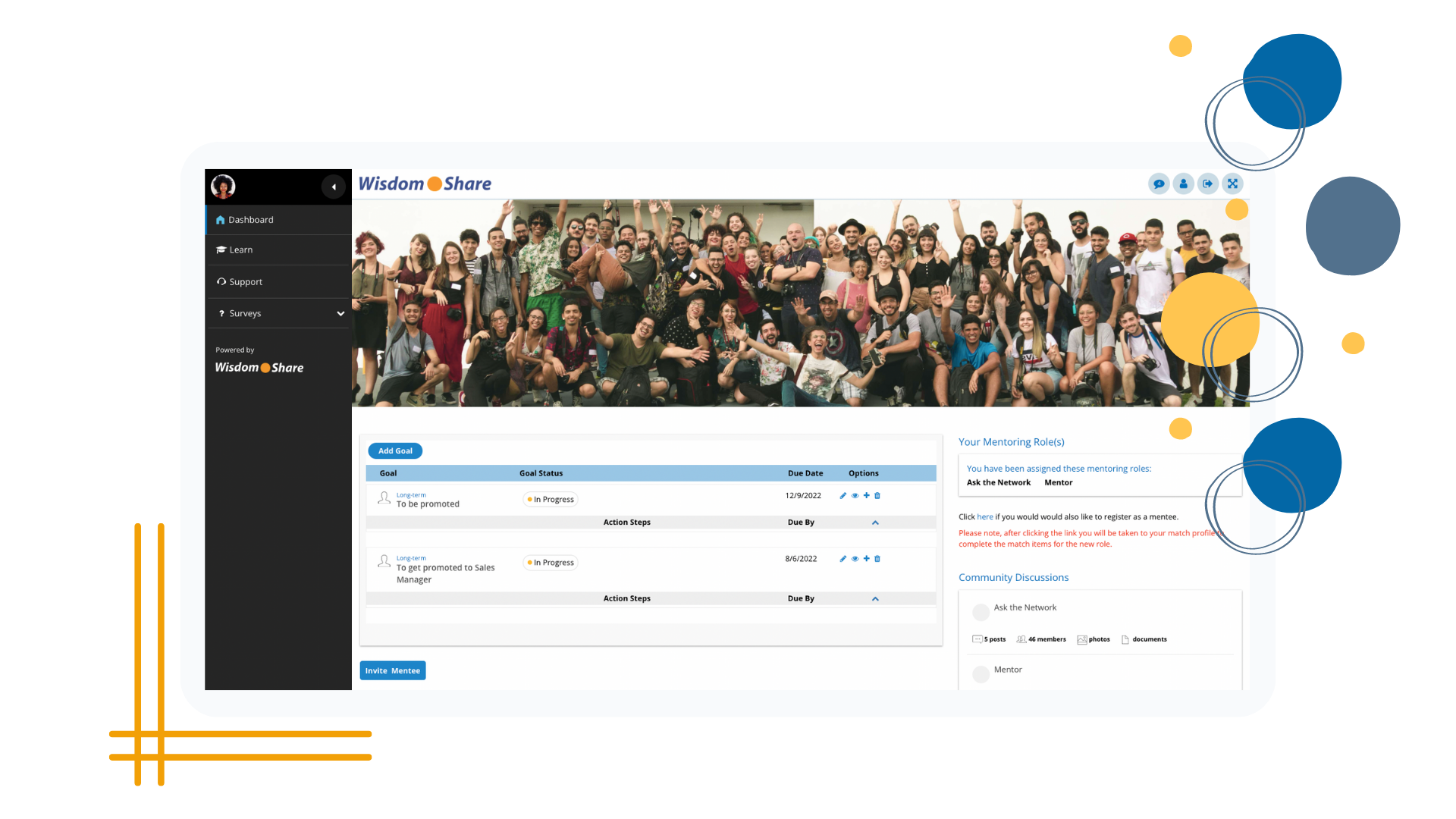 Set Mentoring Goals
Mentors and Mentees set and track goals.
Administrators track mentoring outcomes.
Schedule Your
Meetings
Mentees and Mentors schedule meetings within the tool, tracking their progress:
Email Reminders

Discussion Topics

Notes

Meeting Links
Participant Guidance
Mentors and Mentees benefit from a centralized, consistent approach to mentoring.
The organization creates a mentoring culture through the distillment of Best Practices.
Mentoring Content
and Coaching
Mentoring content can help guide mentoring conversations.
Learn, our mentoring library provides Mentoring Best Practices in downloadable format.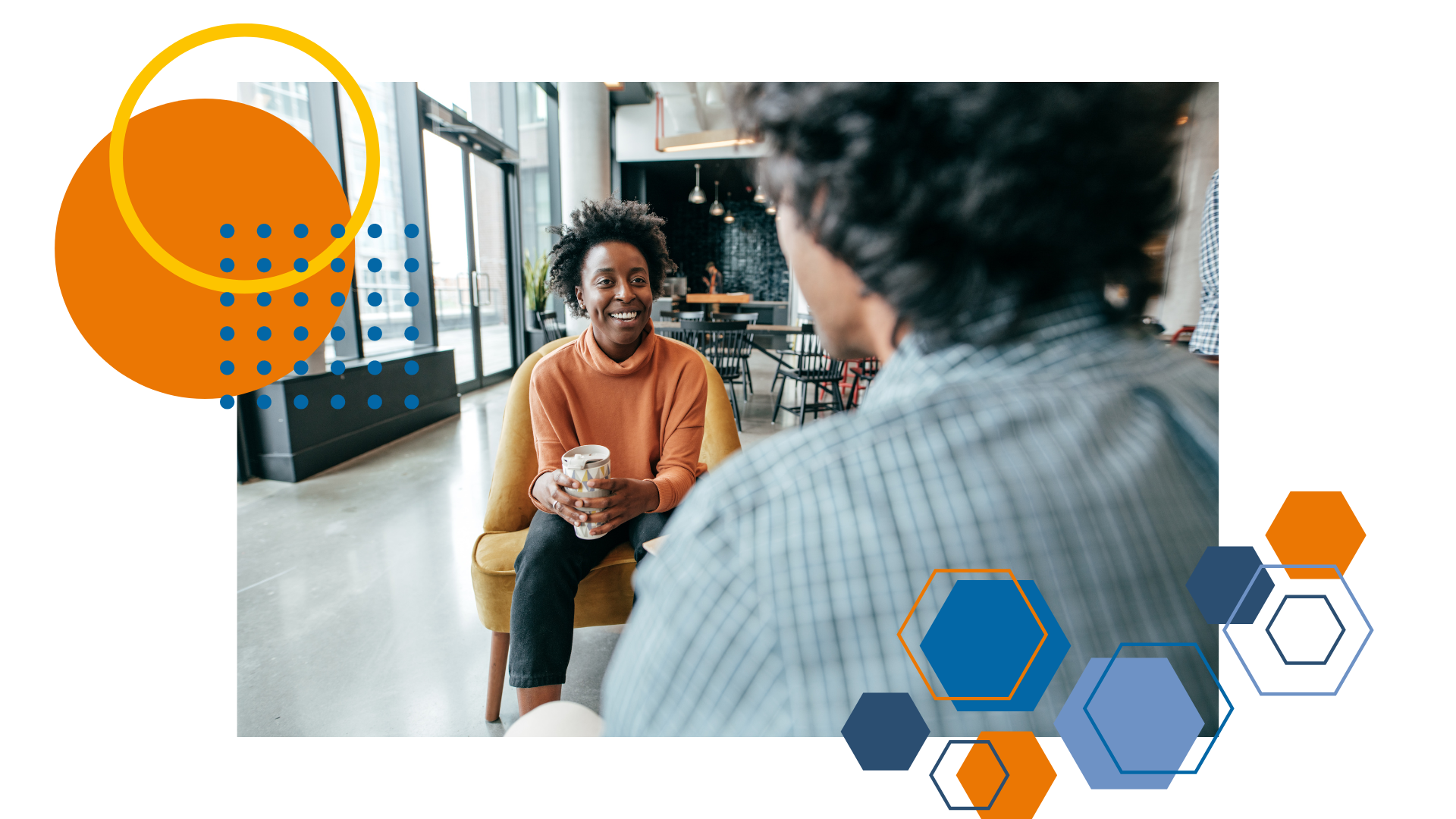 Community Building
Participants can chat online in a confidential, protected space.
Mentees can post topical discussions.
Mobile Learning
Wisdom Share is accessible for users on any mobile device.
Participant Surveys
and Self-Assessments
Administrators and participants track KPIs via Wisdom Share's Survey Module.
Email triggers send timed reminders to complete evaluations on time.
Security
We are compliant with General Data Protection Regulation (GDPR) and the California Consumer Privacy Act.
Need clarification?
Frequently Asked Questions
Is Wisdom Share a SaaS web app?
Yes, it works on any standard browser.
I've been in other mentoring programs. How does Wisdom Share create such fantastic matches?
Because we use behavioral analytics in our algorithm to determine compatibility, Wisdom Share creates matches that simply create build trust more quickly
Can Wisdom Share scale up or down as our needs change?
Yes, it is easy to scale up or down with Wisdom Share. Keep the functionality you like and turn off that which you don't. Want some you don't see? We can add it. Our goal is to create a mentoring system perfect for you.
Where is Wisdom Share hosted?
Wisdom Share is hosted on the Microsoft Azure Cloud.
Wisdom Share was selected by DHA & Department of Defense for use. In partnership, we are undergoing FedRAMP Moderate certification allowing DoD end users to safely and securely use and interact with our platform and cloud servers. The FedRAMP authorization ensures the highest level of security for our SaaS services and products. Wisdom Share also meets the highest levels of security needed in the commercial world. We are compliant with General Data Protection Regulation (GDPR) and the California Consumer Privacy Act. Our data center is Microsoft Azure and it is configured with all best security practices enabled, as verified regularly by both internal security reviews and regular reviews to maintain our FedRAMP authorization status.
Is Single Sign-On available?
Yes, SSO is available to avoid multiple logins.
One Tool for All Your Mentoring Needs