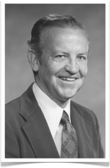 For all of you that are members on LinkedIn, they are doing a great series right now where they ask the world's most successful professionals to share how they got their start and who they have to thank for their success. Hundreds of real-life professionals are also posting their stories about their mentors and the gratitude they still harbor for these people that influenced their lives.
These stories remind me of my first and most influential mentor and why I got into this business. It was my father. He was the Senior Executive at the Chattanooga Coca-Cola Bottling Company. He had that perfect Coca-Cola personality. Everyone loved him and his ready smile.
There is something about growing up with a father in the Coca-Cola business. It is a very social position in the community and I was able to see how Dad made friends and leveraged contacts. Dad was President of both the South Carolina and Tennessee Bottler's Association. He knew just about every bottler in the US and they all knew him by name. His level of commitment and his enthusiasm for his company were obviously impacting.
Dad largely influenced my choice of careers from soft drinks to the insurance business to the company I have today. Because of my father's mentoring and influence in Chattanooga, I was afforded great opportunities.
When I was 14 or 15, I started going to Coca-Cola conventions with my parents. My father introduced me to all the people he felt most knowledgable and influential. He taught me about how people help each other in business and how I might leverage those types of relationships for myself. When I started my career, he provided guidance and shared his contacts with me to help increase my chances for success. Looking back, I can see that others did not have this chance.
Through my experiences with him, I was able to see what a mentor was close up and to understand how very important having one was. I was aware of how many people could have benefitted from the opportunity to have him for a mentor. I understood how different life could be without one and I wanted to create opportunities for all individuals to enjoy the same benefits I had received as a result. It motivated me seeing what could happen for an individual if they had someone who really believed in them and had their back.
Because of this, I started Mentor Resources in 2001 to promote mentoring and knowledge sharing for all people. After ten years of research, we created Wisdom Share, our online mentoring software tool to make sure that people in organizations large and small would have access to the mentors and subject matter experts they needed to develop their skills and careers.
Click here to read the LinkedIn Series: The Mentor Who Shaped Me.