Announcing the International Mentor of the Year 2015
April 6, 2016 Mentor Resources Announces 2015 "International Mentor of the Year"
Binodh DeSilva, Head of Analytical and Bioanalytical Oper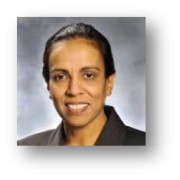 ations, Research and Development at Bristol-Myers Squibb, has been named International Mentor of the Year by Mentor Resources, the global mentoring authority.
Ms. DeSilva's dedication to mentoring exemplifies the qualities of this annual award, which recognizes mentors who go above and beyond to make a difference in the professional and academic lives of others. Candidates for this honor are nominated by peers or mentees, and must demonstrate a strong commitment to supporting the personal and professional growth of their mentees .
Ken Petelinkar, Associate Director of Compliance Training, Pharmaceutical Development Operations at Bristol-Myers Squibb, leads the mentoring program in which Ms. DeSilva participates. He describes her impact: "When the mentoring program using Wisdom Share began at Bristol-Myers Squibb, Binodh was one of the first to volunteer. For her mentees, she provided strategic, valuable career development insight. The feedback provided by her mentees is testament to Binodh's support and the enthusiasm she shares. Binodh is deserving of the honor of 2015 International Mentor of the Year."
Since joining Bristol-Myers Squibb five years ago, DeSilva has mentored 10 young professionals across the organization. She also mentors post-doctoral and graduate students through the American Association of Pharmaceutical Scientists (AAPS).
"I am truly honored to receive this award. It means so much to be able to give back to the profession I love, and I'm motivated by the numerous mentors who have supported me throughout my career," Ms. DeSilva said. "As President-elect of AAPS, one of my priorities is to encourage professionals to give back to the community, by providing their unique, useful insights to help develop those in their early careers into scientific leaders."
These are a few of the comments Ms.DeSilva's Mentees made about her that won us over:
She has been a great role model with her passion for science and public service, and her effort for developing people both in and outside her organization.
She encouraged me to sign up for a cross-functional rotation that I am currently undergoing, and I have found it to be an invaluable experience.
She informed me about focus groups on pharmaceutical development and following her advice I drafted and submitted a session proposal for a professional congress.
Binodh has provided me insight regarding interpersonal relationships and how to develop myself as a scientific leader. We have constructive dialogues about my yearly objectives and development plans along with feedback on my progress.
Undoubtedly, Binodh DeSilva demonstrates the true purpose of a Mentor and we are proud to recognize her as the International Mentor of the Year 2015.
About the International Mentor of the Year Award
This award honors mentors around the globe who go above and beyond to enhance the academic and business lives of those around them. Mentors are nominated for demonstrating the following qualities:
· Strong commitment to helping others grow professionally and personally
· Willingness to share their experiences and knowledge
· Climate that supports trust, openness, candor, and rapport
· Feedback that is honest, objective and constructive
· Professional or academic guidance and help in expanding the mentee's networks